Let's look at the ever popular and super beautiful brooch bouquet.
                                                                                                                                                              $750-$250 on sale from a store on Etsy
I love brooch bouquets. They are super fabulous and truly can last a lifetime. They are perfect for the bride that isn't really into flowers. They can be personalized, styled and shaped in almost any way you like and they can range in costs from right around a hundred dollars to a lot of hundreds of dollars.
I am obsessed with BluePetyl.com designs. They make lovely designed brooch bouquets.
The brooch bouquet is being seen in every kind of wedding from Vintage to backyard. The appeal to have a bouquet full of beautiful unique little treasures is contagious. When I got married a few years back, I was not aware these were an option or I definitely would have had one. This is perfect for women that wants some bling and uniqueness on her wedding day. You can definitely use flowers as a base, or feathers or lots of other unique items.
The stems need to be sturdy because just like a hearty bunch of live flowers, your brooch bouquet can become a bit heavy depending on the size and quality of brooches and other items you use to create it. Doubling your wire stems and wrapping them tight will help you keep the shape your bouquet is supposed to have.
Buttons are cute too. Look at this $350 lovely creative by Bridal Bouquets by KY on Etsy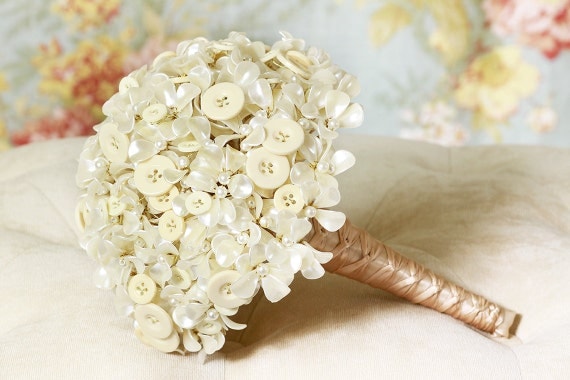 This high end drop bouquet is right around $1100. Filled with Swarowski Crystal, diamantes, etc.Designer The Tiara Boutique on Etsy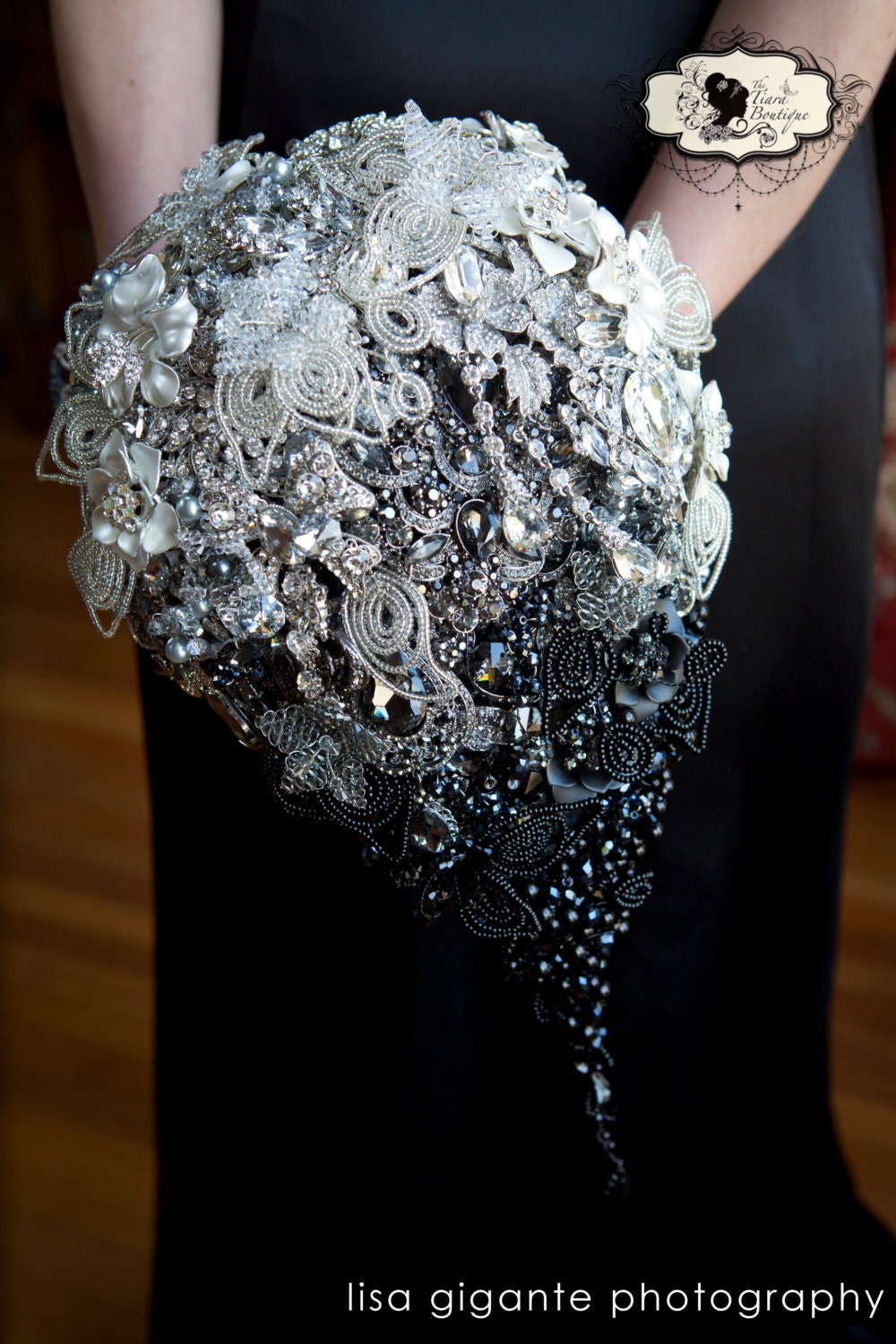 This brooch bouquet is $220 with shipping and handling. Store on Etsy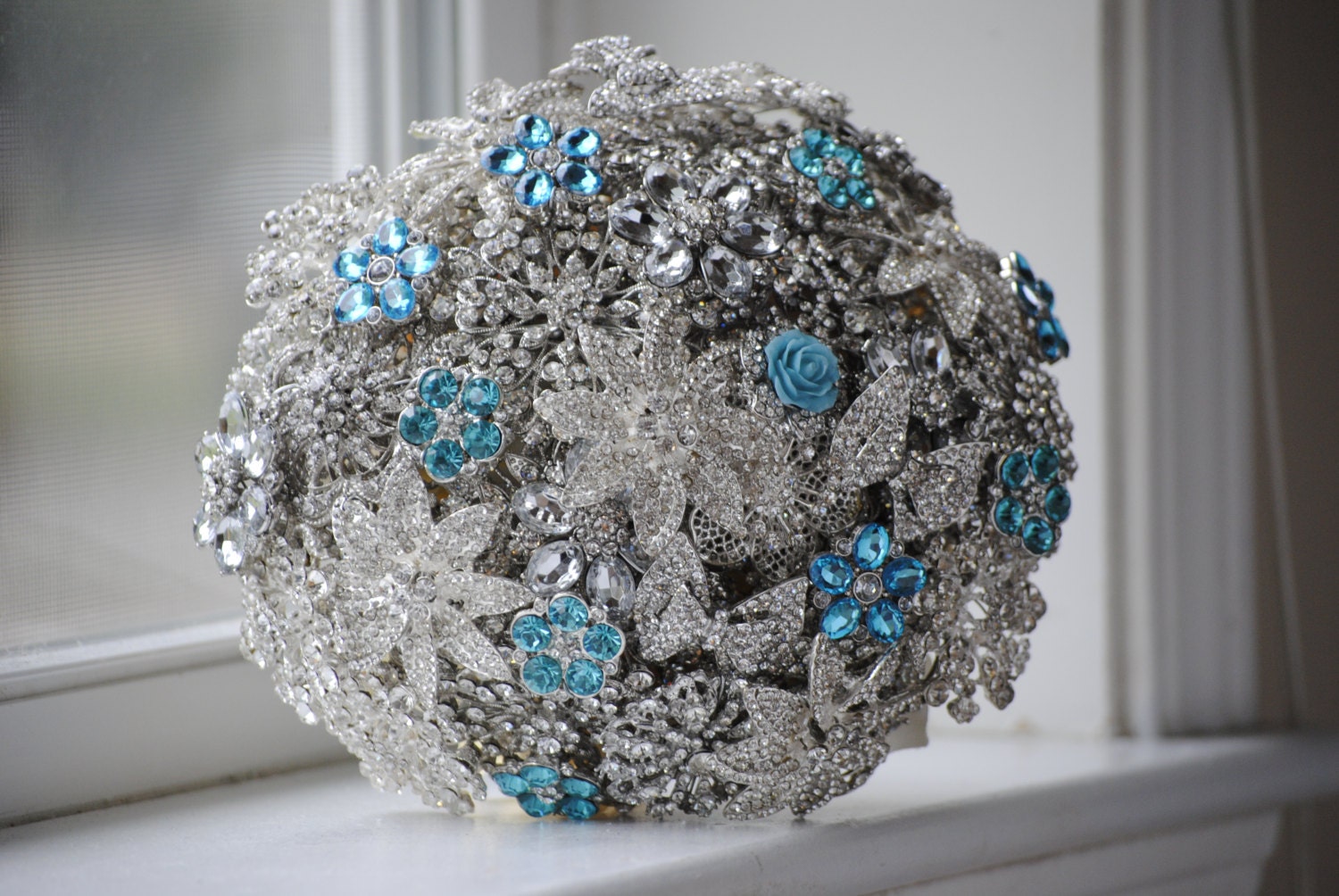 This beauty is under $350. I love how the designer puts a little extra something at the bottom of the wrapped stems. (and she is in Florida) Look for Glitz of Florida on Etsy and Facebook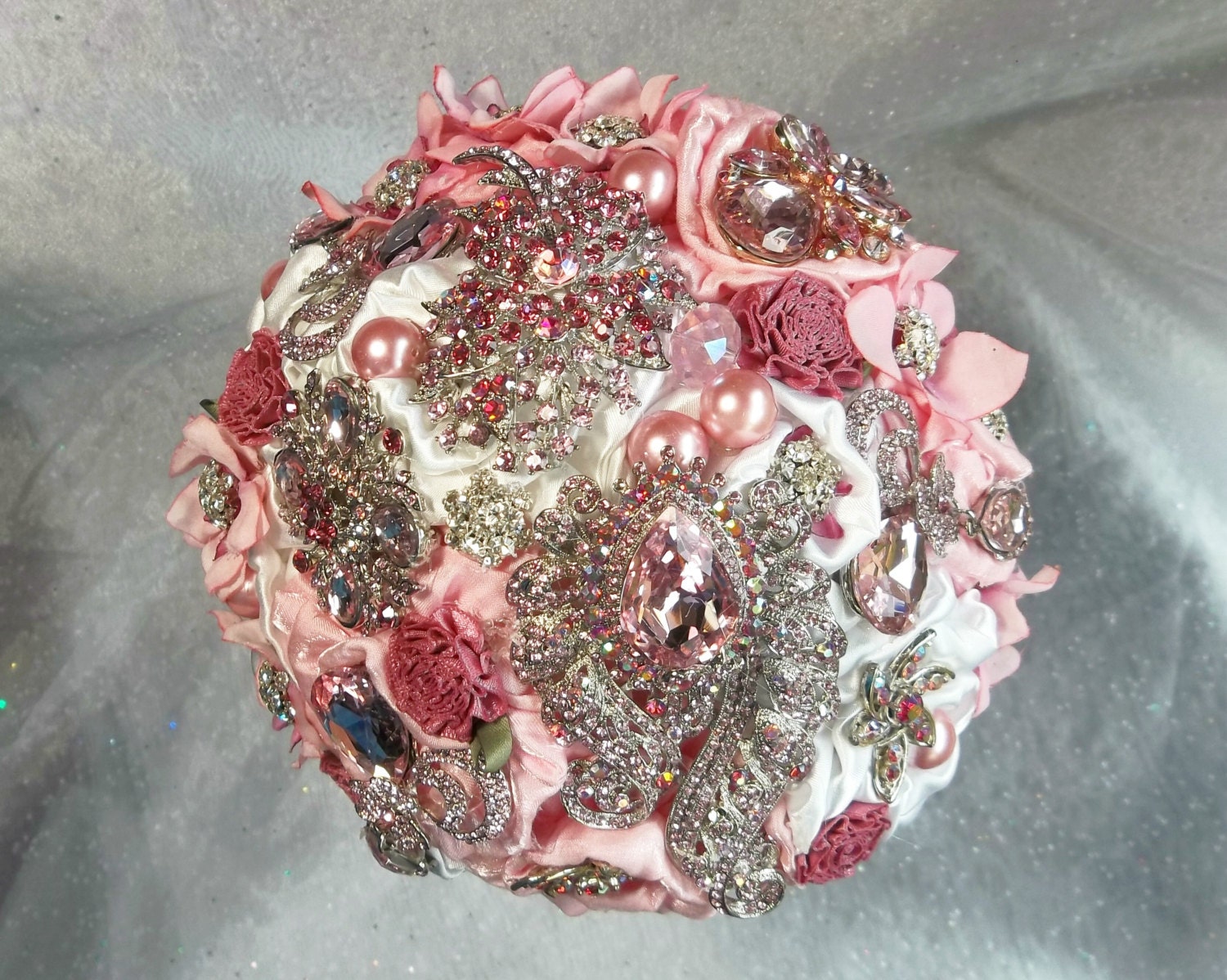 This blue stunner will run you upwards of $450 and the boutonneire about $30. LX Designs on Etsy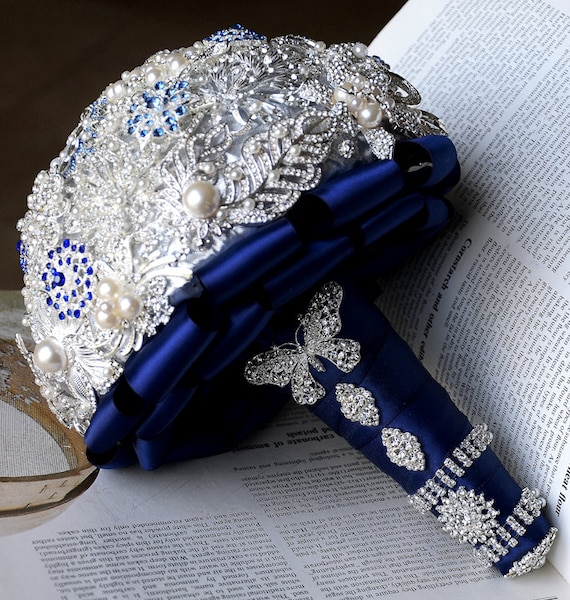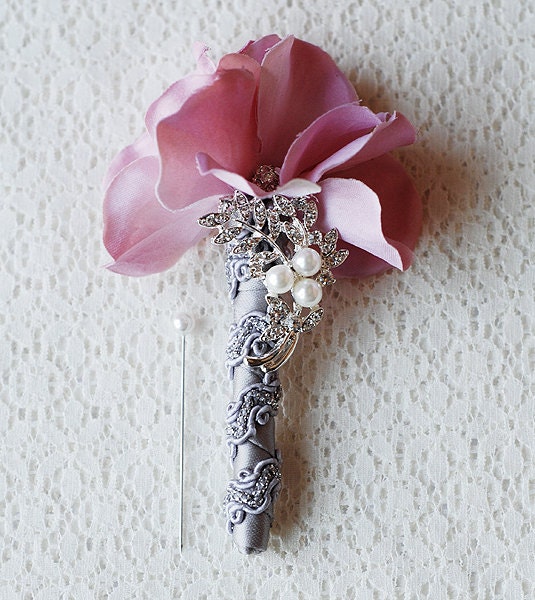 $600 for this purple delight. Check her store on Etsy. Designer name is Noaki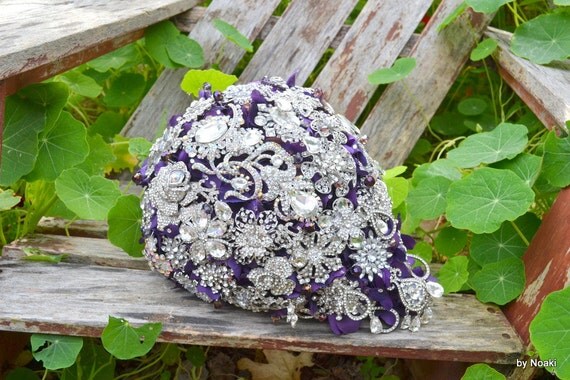 This amazing red, black and white creation costs $500 on Etsy.  designer AnnaSinclair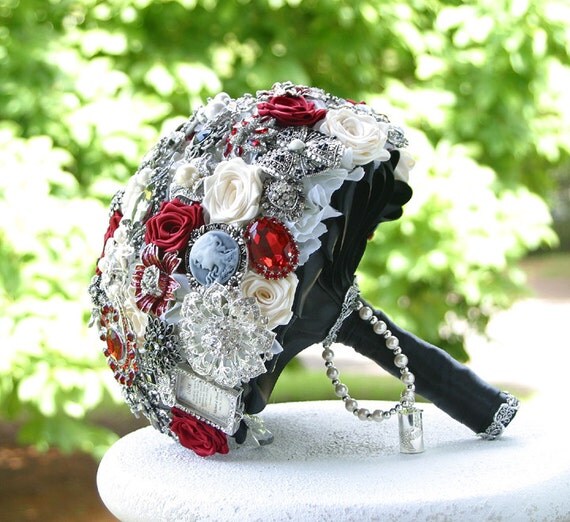 Designer Home of the Brooch Bouquet TM on Etsy. prices range from $250-850. Beautiful use of enamel flowers. She is also featured on bridal shows on the WE network.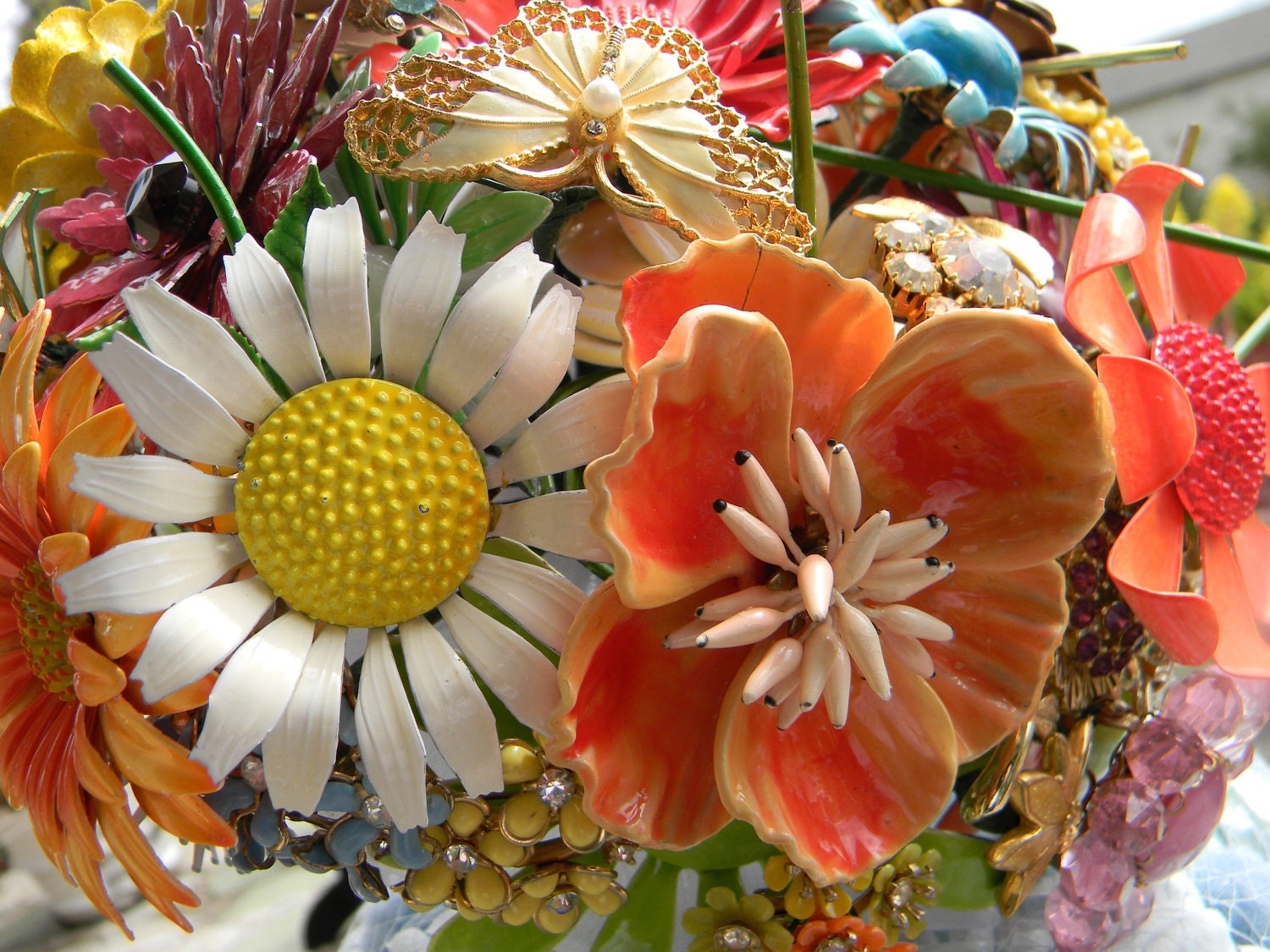 Note- Please make sure you read the fine print on the Etsy sites. A lot of times the price to draw you in is the deposit. I tried to include the full price listed on each bouquet but pricing may have changed by the time you read this blog. 
The DIY tips
Not ready to lay down that much cash for your brooch bouquet? Well you can definitely make your own and there are plenty of sellers on Etsy who sell the brooches in bulk. It looks like most bouquets don't use more than 60 brooches. They tend to be around 25-35 on average with other little whimsical things added in to fill the spaces. Now your bouquet does not have to be all brooches, you can definitely add some brooches to your flower bouquet to add just a touch of bling using around 6-10 brooches. This is a great idea if your wedding party is going to have brooches on their bouquets and you go for the full brooch approach.
You can purchase your own brooches from sites like FabulousBrooch  or on EBAY , DHGATE, WeddingFactoryDirect and TOGO, (If you want to purchase abroad you could use Alibaba or PandaWhole). Next, run on down to the craft store to get scissors, needle nose pliers, 22 gauge floral wire,(match the wire color to the brooch for seamless perfection and double your wire to make it sturdy). filler flowers (silk, synthetic, or real), You may want to also purchase Styrofoam balls or half balls. spray paint, (use spray paint to make the ball blend in with your bouquet), pearl accessories or other filler accessories.(the little accessories used to make favors also work fine)to fill any gaps between the brooches. Enamel flowers and accessories are also beautiful when used in your bouquet.
Choosing your brooches can be fun, emotional and kind of like a scavenger hunt. Some ideas to deciding what kind of brooches you would like is to first decide if your brooch is going to be connected to the theme of your wedding or be more personal to you. Are the brooches family heirlooms or do you like seahorses and pearls? Next use brooches that look good together. This may be certain metals, styles or colors. your filler accessories can be pearl topped pins, Christmas bobbles, acrylic flowers or artificial flowers. The combinations are endless. I also suggest getting a stand or making a stand to keep your bouquet in. It will definitely be a keepsake.
You can also use mixed metals but be careful so it doesn't come out looking thrown together. Here's a great example of it done right!
This pink round brooch bouquet starts at $159 and goes up depending on the size on Etsy. Designer AntonellaMia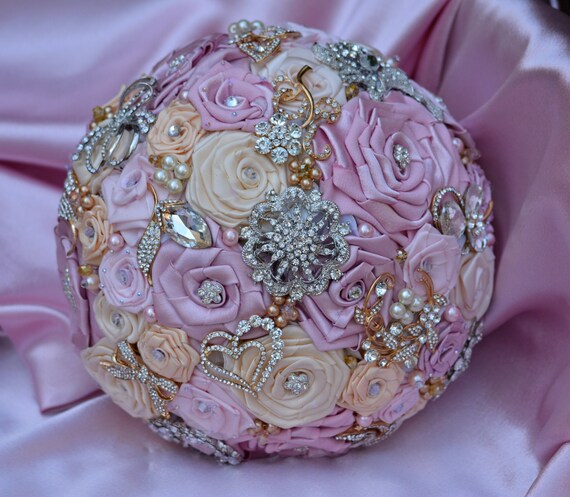 Limited edition Crystal and Acrylic Brooch bouquet $350. Designer Bridal Bouquets by KY on Etsy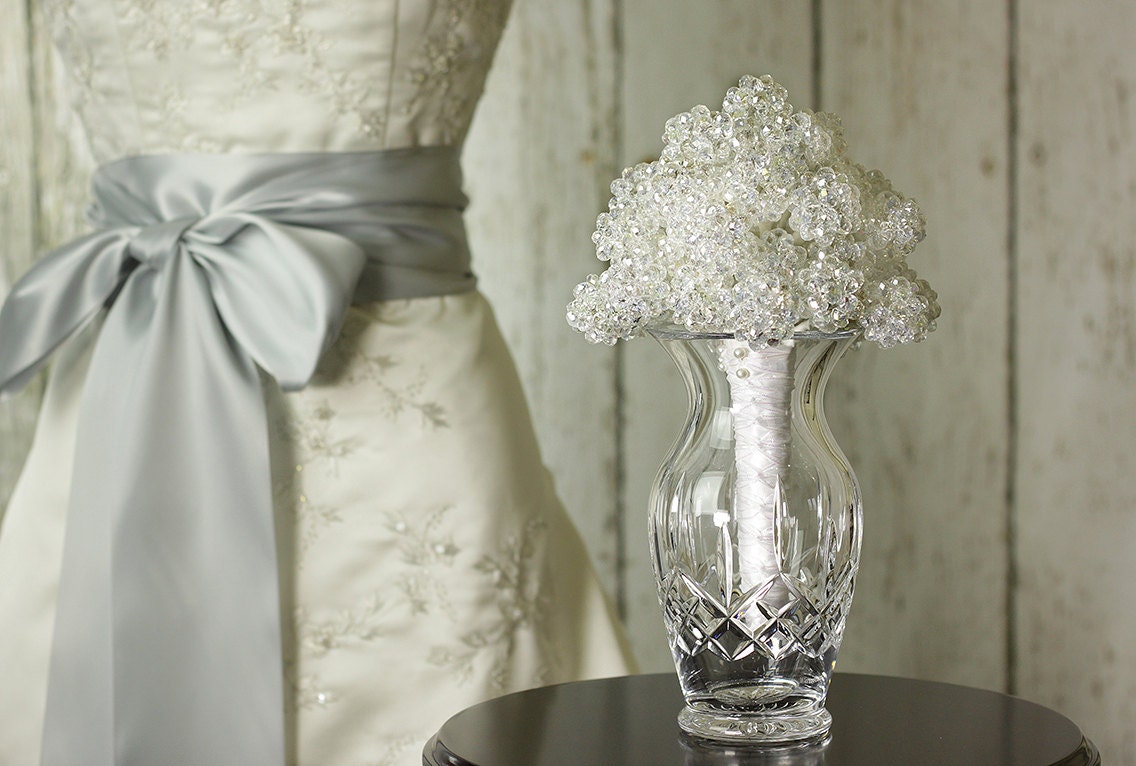 Adding up your dollars:  If you are spending $5.00 per brooch and it takes 25 to make your bouquet, that puts you at $125 before you even start building the thing. If you are on a budget, try to get them for $1-2 each or less, to keep the cost down. Remember you still have to buy the rest of the stuff to make the bouquet. If money is no object, you can get very expensive brooches. They can range from 20.00 and way beyond if that is where your budget lies. The wire should be under five dollars and you many choose to use a wooden dowel for the handle. Pick those up from your local hardware store. Most of the time they will even cut them for you. Remember, these bouquets could easily be more expensive than traditional flower bouquets, but they will last forever.
The filler flowers
A lot of people use hydrangeas as the filler flower of choice. These can run from $3.49 for an average looking bunch to $10.99 for a really nice looking silk bunch. Depending on how much of the flower will be showing should help you determine how nice the bunch should look. It usually takes about two to three bunches depending on the size of the bouquet. Roses look really nice as well. You can use feathers, satin, organza, silk and tulle and just about anything you would see on a floral bouquet.
You can see the hydrangeas used in this sea inspired brooch bouquet. $300 on Etsy shop BoHo Bridal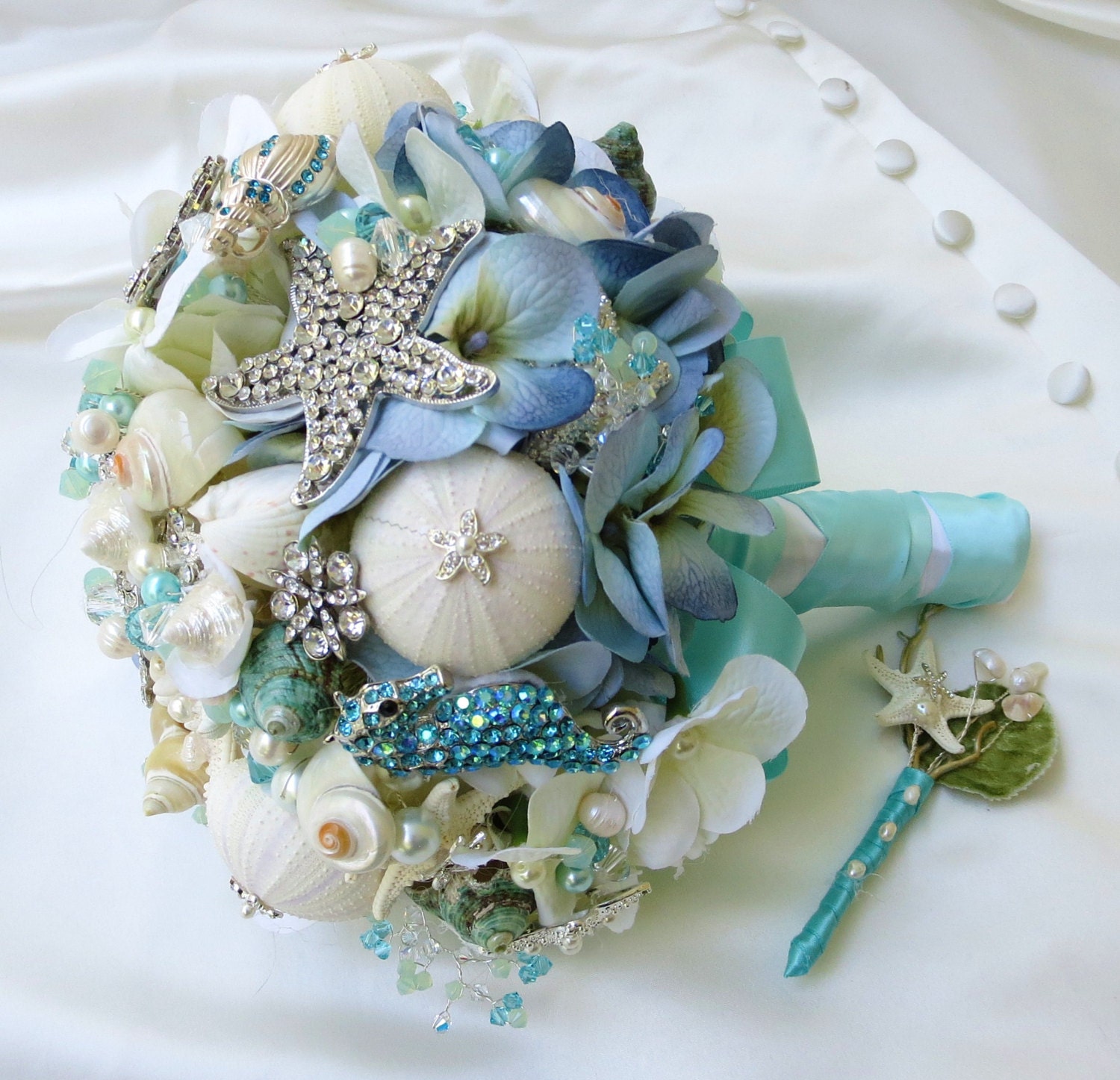 This is also by BoHo Bridal and uses roses and hydrangeas as filler flowers $350 on Etsy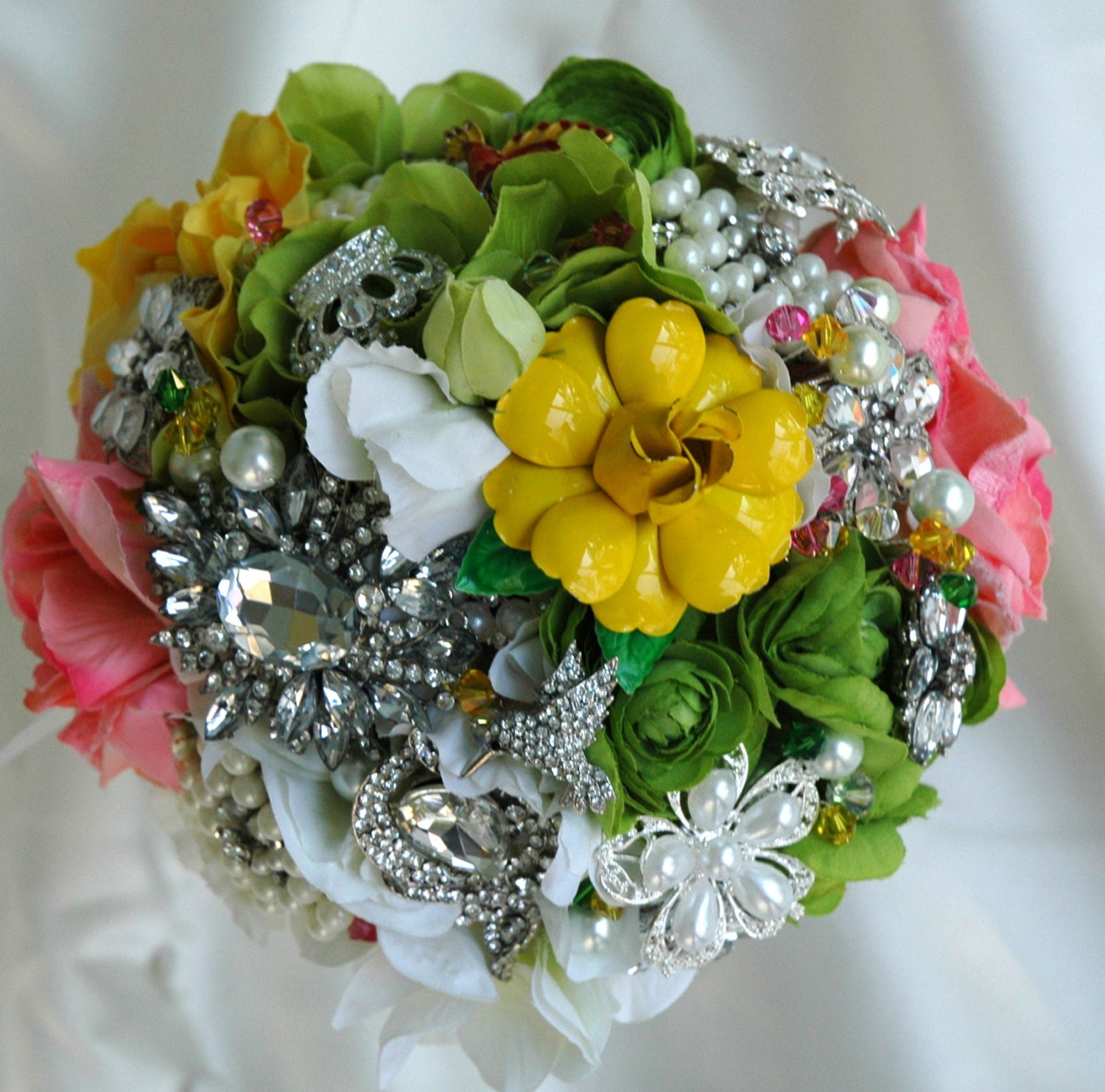 This is made of chiffon and organza for $142 by designer the Altered Chick on Etsy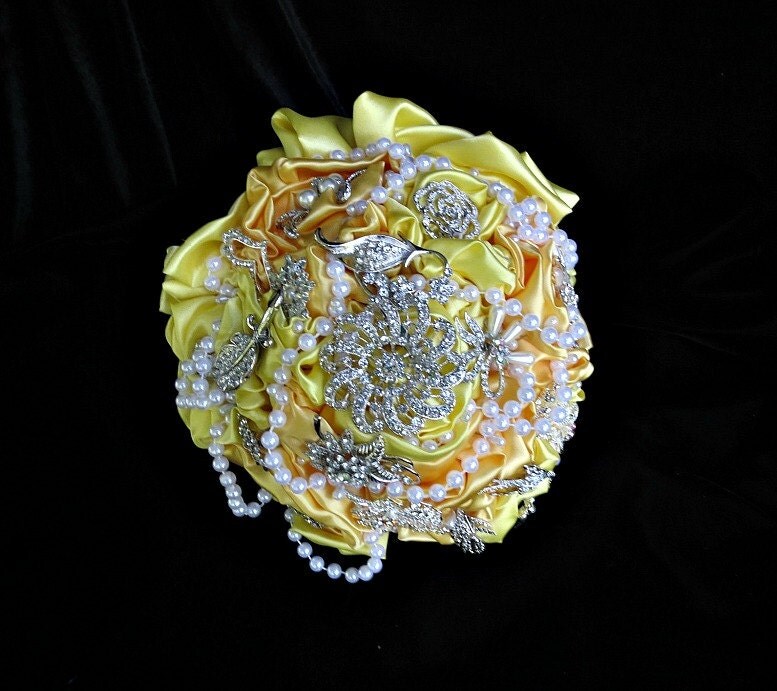 This bouquets uses the brooches more as an accent for $160 designer is ChellysChicBoutique on Etsy
This pink and black rose brooch bouquet is $115 on Etsy. Designer Afternoon Delight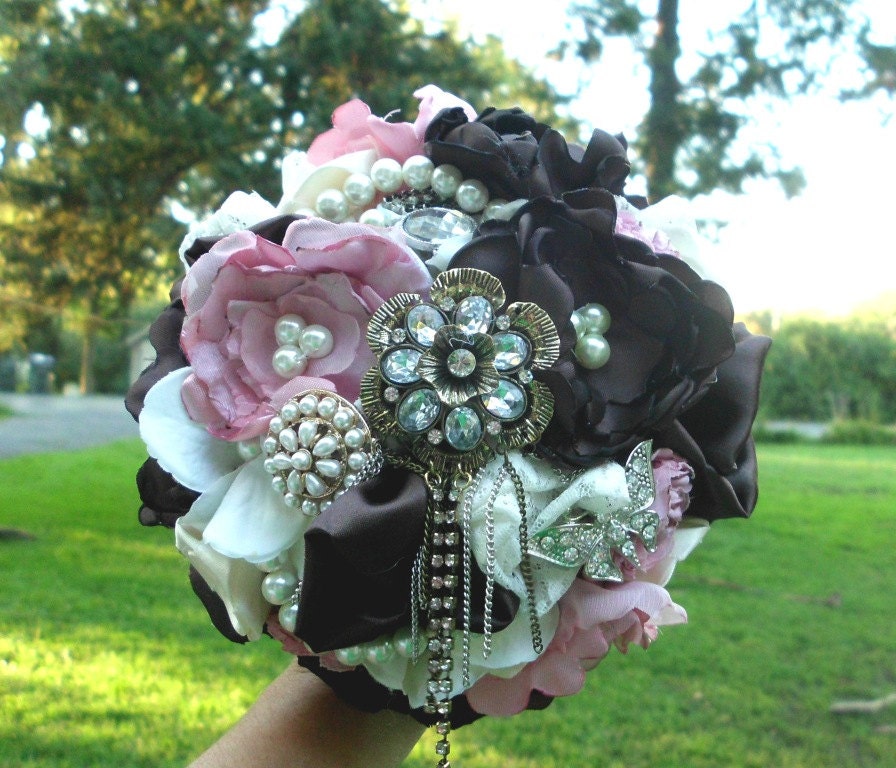 Don't forget to reinforce your wire stems and cut them all even. Also wrap the stems in floral tape really well before wrapping the ribbon on the stem to make it smooth and even. Decorate the handle with bling to make the look even more unique.
This brooch bouquet is $159 and up depending on the size on Etsy. Designer AntonellaMia
Visit you tube for more tutorials and ideas. Feel free to share your designs here.
You can Buy this lovely brooch bouquet Right Now!

Brooch Bridal Bouquet
---
Brooch bouquets made by one of my brides for her May Vintage wedding.
---
Wedding Officiant, Blogger and Amateur Photographer
By Sheri Thomson I DO Weddings by Sheri PO BOX 780395 Orlando Florida 32878