Your Wedding Unplugged..

As social media and technology advance, making do it yourself applications more and more available to us, it appears that we are no longer guests at out friends and families weddings. It seemed we have turned into a bunch of amateur reporters, videographers and photographers. Don't get me wrong, I think it is great to be able to capture a wedding through the eye of your cellphone or tablet but just because we can, should we? The panoramic shots of the emotions of guests and family are disappearing from wedding photos because there is now a sea of arms holding tablets and phones in the air. Faces are covered by IPads, eyes are cast down reviewing the angle of what you are shooting instead of on the bride and groom.  An engaged audience lends itself to the special importance your day should inspire. 
I am seeing a rising trend where the couples and vendors of the ceremonies are asking that electronic devices not be taken into the 
ceremony space to allow for the couple to have a beautiful set of pictures taken or video to be made without the distractions and additional flashes. I recently did a garden wedding and took pictures for the couple. I asked a guest who had no where to sit and had positioned himself behind me to take a few pictures with my camera while I officiated the ceremony so they would have at least one picture of the ceremony. He snapped away about 50 pictures. 48 of which I could not use because they all showed guests and family hidden behind tablets or looking at their cellphone as they were trying to take pictures during their ceremony. The smaller the wedding the more of a problem this can pose. As an officiant we usually ask that cellphone and ringers are turned off. Do we now need to  ask that all electronics are put away? If there is no professional present to capture the event, then you will most likely be ok. (always ask the couple) But if the couple has spent hundreds or thousands on professionals to capture the day, it is important and appropriate to let the pro do his or her job. They should never have to shoot around you, the guests.
There are lots of cute ways to get the message to your guests. (See ideas below) Being too worried about the shot may rob you, as a guest, of the emotion of the day as well as the couple. It may possibly cause the people sitting closest to you and behind you to have to bob and weave to see around your arms.
I asked an accomplished photographer, videographer and production company owner here in Winter Park Florida to weigh in with his take on the subject. Here's what he has to say…
---
The unplugged wedding. A trend that has begun to gain steam amongst weddings worldwide. Let's face it; your wedding is unique and most likely the most unique personal occasion in your life. It is an event that commemorates your passion for your companion and it should be appreciated with this unique method. A great wedding event resembles a great dish. All the active ingredients need to exist and the environment needs to be perfect. That will amount to a rewarding dish. The exact same details opt for a terrific wedding event. All the necessary procedures and proceedings must be perfected, as equally as you visualized it, so the wedding event attendees have to be seated properly and so on. However, there is constantly one bad active ingredient that normally happens to appear in many modern wedding celebrations. What would that be? Believe it or not, but there are guests of the wedding that spend more time photographing or filming the ceremony with their Point & Shoot Digital Cameras, DSLR's, iPhone, Androids, tablets, and various other mobile devices then actually watching you get married. iPads, phones, and cameras obstructing the views of wedding ceremony attendees can also be incredibly annoying to guests who are actually trying to witness the bride and groom join hands in marriage.
Not only are ceremony guests having trouble witnessing the ceremony, but also the hired professional wedding videographers and photographers discover themselves needing to take on wedding event visitors in attempts to capture the ceremony the best possible way. Now the professionals can always make things work, but a guest randomly jumping in front of the camera at the most important segments of the ceremony cannot be fixed. This is why you should have an unplugged wedding: a basic guideline for wedding ceremony where visitors are instructed to switch off all devices that can take a picture or video.
Wedding photographers and videographers have the training, tools, and experience to document unforgettable wedding event memories. They produce a wedding product that will certainly have all the affection, immediacy, love, and emotional state most wedding visitors would certainly desire from their self-shot pictures and video clips. An unplugged wedding permits all wedding guests to concentrate on the special occasion that is taking place in front of their very eyes. Additionally, a wedding ceremony is an event that is supposed to be cherished and appreciated via one's individual memory as opposed to being recorded by a smart phone.
by Leon Bailey Lasting Blue Print Productions (407) 536-8424 email- info@lastingblueprint.com  website – http://lastingblueprint.com
---
Check out the picture below. This Georgia photographer's blog also has some cute ideas to consider when doing an Unplugged Wedding and creatively inform your guests. The image below was captured by Atlanta Georgia's Truly Sweet Photography. Read more from her blog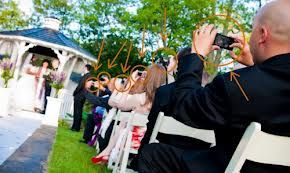 The decision to have an unplugged wedding or not is left squarely with the bride and groom. I did a wedding recently where the bride expressly asked that no digital devices be brought into the ceremony space. I advised I used a tablet for the ceremony which she was fine with. However,  after the wedding, she found that many of the guests did not take her request to heart and she even forwarded me a picture where someone obviously was trying to be on the down low because it had lots of heads and bodies in the way. She laughed it off, but since it was her wedding day, she specifically informed the guests not to use or bring devices into the ceremony space but could as soon as the ceremony was over; do you think that was too much to ask?
As a wedding guest you want to be there in heart, mind and spirit. You want to see the tears, hear the catch in the grooms breath once he sees his bride at the top of the aisle, laugh when appropriate, and respond if the officiant engages you. Fiddling with your electronics may take away from the magic of a wedding. Trying to get your perfect shot may interrupt the harmony and steal away a precious scene that the couple requested. The images should be etched in your memory, and not something necessarily to rush home to list on you tube. Be in the moment of the weddings you are invited to. The bride and groom have gone through a journey that lead them to this point in their lives. They invited you to share in their experience because you are special to them. Take the journey with them organically if they ask you to.
DIY ideas:  Here are some ideas from around the web of getting the message out about your unplugged wedding
---
By Sheri Thomson I DO Weddings by Sheri PO BOX 780395 Orlando Florida 32878 407-375-3258